Home for Christmas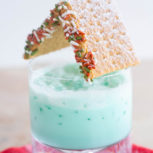 Home for Christmas
Bing Crosby recorded, "I'll Be Home for Christmas (If Only in My Dreams)", in October of 1943. The song was reportedly written to honor soldiers deployed overseas during World War II. The BBC quickly banned the broadcast of the song based on fears that the melancholy theme would negatively impact troop morale. The song reached #3 on the music charts and has since become a Christmas standard.  
Ingredients:
1 ounce Green Crème de Menthe
1 ounce Frangelico
2 ounces heavy cream
Graham crackers, for roof
Peanut butter or similar product, for roof
Sprinkles, to garnish
Powdered sugar, to garnish
Directions:
Apply peanut butter to edges of graham crackers and dip into saucer of sprinkles to apply.
Place graham crackers edges together at a 90 degree angle and apply additional peanut butter until the crackers are stable enough to place on to top of old-fashioned glass. Set aside.
Shake the green crème de menthe, Frangelico and heavy cream in a cocktail shaker with ice.
Strain the contents of the shaker into an ice-filled, old-fashioned glass.
Place graham cracker roof on top of glass.
Garnish with powdered sugar, and serve.
All images and text ©