Commonwealth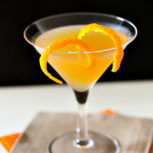 Commonwealth Recipe
Ingredients:
1 1/2 ounces Canadian whiskey
1 /2 ounce Grand Marnier
1/4 ounce lemon juice
Orange twist, to garnish
Directions:
Shake the Canadian whiskey, Grand Marnier and lemon juice in a cocktail shaker with ice.
Strain the contents of the shaker into a chilled cocktail glass.
Garnish with the orange twist, and serve.
All images and text ©